Have you ever wondered how a family larger than yours pays for their groceries? Especially when you're pretty sure they don't make as much money as your family does and they have more teenagers that eat a lot? Here is how we go about feeding a large family of nine.
This post contains affiliate links. My website is my job, and helps to support our family. If you decide to buy something you see mentioned here, I would be so thankful if you clicked through my links so I can receive a small commission at no cost to you. Thank you! Please read my full disclosure.
[ctt template="4″ link="a3C9l" via="yes" ]Have you ever wondered how a family larger than yours pays for their groceries? Here is how we go about feeding a large family of nine.[/ctt]
A question I often get asked about our large family of nine is, "How in the world do you feed them all with only one full time income?" or something similar to those words.  I often answer that God provides us with what we need.  I know that I also need to be wise and careful with what He does provide.  I do make a lot of meals by scratch, like pancakes.
Price Notebook
I keep a spiral paper notebook (I am old-fashioned – you could do this on a spreadsheet) that is alphabetized by the type of item I purchase, for example Peanut Butter.
Then I list what store it is at and how much money it costs and the weight of the product and the brand. This helps me to see where I can save money. Also, if there is a loss leader or sale, I look in my notebook to see if it really is a good deal or not. If it is, I will stock up on those items because I know it is a great price.
Staples
Our family's favorite place to buy the bulk of our food is at Aldi.  It is a small store, but they have almost everything we need for low prices.  They have a Double Guarantee: "Our unbeatable double guarantee. 100% satisfaction or we will replace the product and refund the money."
The Extras
DollarTree.com is a great place to order food items and have them delivered to you.  I will often get snacks, spices and condiments like mayonaisse, ketchup and pancake syrup here.  They have Bonus Buys At Dollar Tree From April 2-14!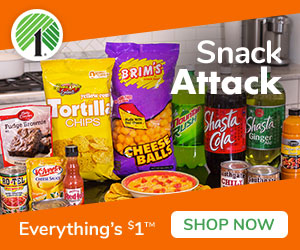 Specialty Foods
Another place that I like to shop meal kits, farm crates, and specialty food boxes is at Walmart.com
.  These are nice if you have special diets like: gluten-free, organic, caffeine-free, dairy-free or vegan.
Yet another great place to order food online is through Amazon Grocery. They also have gluten-free grocery items, plus many popular brands. There are even coupons to save even more money too. They have some great deals on coffee.
I hope you will get a chance to make your own price notebook or spreadsheet and see how your family can save the most money on each type of item.
Subscribe so you never miss a post.
Please share this post.
Join the newsletter
Subscribe to receive our latest articles and promotional content by email from NeededInTheHome