Our family received a jute Christmas tree skirt to review from Ozark Cabin Décor LLC. Come and take a look with us at how it looks under our tree.
Disclosure: I received product in exchange for my time writing this article. All opinions are my own.
Note: Some links in this post are affiliate links, which means I receive a commission if you click a link and then make a purchase.
Choosing A Christmas Tree Skirt
For this review, I was able to go and choose which Christmas tree skirt I wanted from their website. Earth rugs are really popular, so I was looking forward to trying one out under my Christmas tree. If you take a look at their jute Christmas tree skirts, you will see that they are all beautiful. It was a difficult choice. I decided I would choose my two favorites and without telling him my choices, ask my husband to show me his two favorites. Amazingly, the Rustic Tall Timbers Round Braided Tree Skirt was one we both liked, so we decided to choose that one.
Placing The Skirt Around The Christmas Tree
After our artificial tree was set up, it was very simple to place the skirt around the tree. I kneeled in front of my tree and lined the opening or slit of the skirt towards the tree trunk pole. Next, I pushed the whole skirt straight back. I let it fall naturally, then made adjustments so the front would look best. With the height of my tree stand and width of our tree, the back did overlap a little bit.
Rustic Tall Timbers Round Braided Tree Skirt
Hand-Stenciled Design
It amazes me that my new tree skirt was handcrafted and hand-stenciled in Arkansas, USA in the Ozark Mountains. I am a crafter myself and I can just imagine the time it must have taken. But the results are so worth it! They made it of 100% natural jute plant fiber, it is biodegradable and I can see and feel the quality. I believe this will last for years to come. It is also flame and moth retardant, which is a benefit for sure.
How To Clean Your Printed Jute Rug
You can use liquid dish detergent and water to spot clean or gently wash in the bathtub. The jute plant naturally grows in water in Bangladesh, so it doesn't hurt it to get wet. After it has been soaked and rinsed, simply roll it up tightly to squeeze out excess water and lay it flat to dry. You could also place it on a clothes line or on a bush to dry. Do not machine wash or dry.
Looks Beautiful Around the Christmas Tree on Carpet
This tree skirt with the rustic tall timbers hand painted on it gives my living room a very cozy and welcome feel. It looks beautiful and will be enjoyed by my entire family for the entire Christmas season.
This Jute Christmas Tree Skirt Looks Elegant on a Hard Floor
I wanted to try the jute tree skirt on a hard floor as well, so we tried it in my dining room area. When it is placed on a hard floor, the hand painted tree skirt gives off an elegant look. In my opinion, it would look great in a business setting with a hard floor under it.
Hand Painted Jute Christmas Tree Skirts
Several Christmas Tree Skirts to Choose From
They are all amazing, but here are the three my husband and I were considering, in case you are curious. We both liked the stars, I liked the red and he liked the black. I am very happy with the design we chose. I highly recommend that you go to Ozark Cabin Décor LLC's website to see all the choices of jute Christmas trees skirts and look around at their other products too. Here are some other products they offer:
Cabin Bedding
Patchwork Quilts
Wooden Flags (USA Made)
Rustic Lamps
Oval Printed Rugs
Canister Sets
Rustic Dinnerware
Utensil Crocks
Cast Iron Gliders (USA Made)
Cedar Log Furniture (USA Made)
Women Ponchos (USA Made)
Genuine Leather Pillows (USA Made)
Conclusion
I am very happy with my new tree skirt and think this would be an amazing addition to your home or business to enjoy for years to come.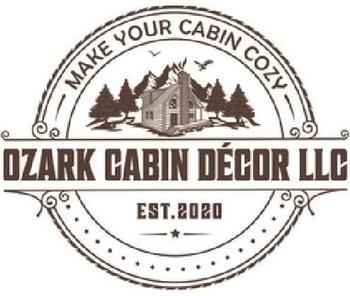 Where To Find Jute Christmas Tree Skirts
Website: https://www.ozarkcabindecor.com/
Instagram: https://www.instagram.com/ozarkcabindecor/
Facebook: https://www.facebook.com/ozarkcabindecor
Alignable: https://www.alignable.com/lead-hill-ar/ozark-cabin-de-cor-llc
Subscribe so you never miss a post.
If you find my tips useful, feel free to support my work. Thank you in advance!
---
Want to remember this? Pin it to your favorite Pinterest Board!
Join the newsletter
Subscribe to receive our latest articles and promotional content by email from NeededInTheHome